Surveys
Before the systematic researches conducted by the Italian Mission, Salut has been object of three archaeological surveys:

Harvard Archaeological Survey (winter 1973)
British Archaeological Expedition (winter 1974-1975)
University of Birmingham Archaeological Expedition (later the Hajar Project, 1980-2014)

The site was recorded as BB-15. On the base of the surface material, two major periods of occupation were hypothesized: an Iron Age phase in the latter half of the 1st millennium BC and an Islamic occupation in the 13th-14th centuries AD.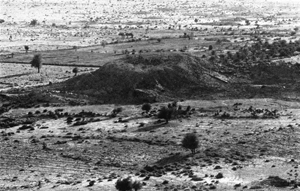 Oman in '70s
It is not by chance that the archaeological surveys at Salut developed during the Seventies. The throne access in 1970 of HM the Sultan Qaboos bin Said, indeed, inaugurated a new era in Oman, characterized by a general renaissance in all the fields.

Besides the modernization and technological progress, great attention is addressed to the historical and cultural roots of the nation. The local traditions, as shown by the images presented here, are respected and hold in great consideration.